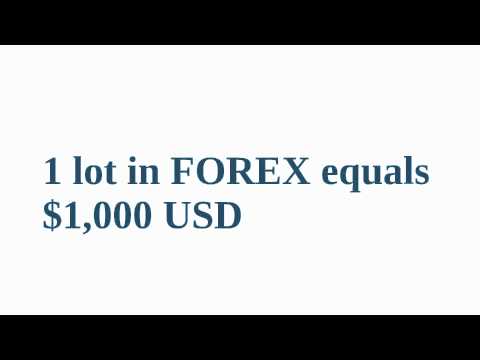 Before trying to trade on a real live account, you must understand what FOREX lot means and how it affects your trading. Lot in FOREX is the amount of cash you put into a single transaction. Since the actual amount of money you control also depends on leverage, your risk can be more than you think.
1 lot in FOREX equals $1,000 USD, while 1 mini-lot equals $100 USD. If your account has 100:1 leverage, 1 FOREX lot will let you control $100,000 USD, (10,000 USD for 1 mini-lot). However if leverage level for your account is set to 200:1, you will control $200,000 USD or $20,000 USD respectively.
If you do not consider leveraging while choosing number of FOREX lots for a particular transaction, you may either play too risky or miss a significant chunk of profit. I've seen the following leverage levels on various FOREX brokers: 20:1, 50:1, 100:1 and 200:1.
Before making a trade, always calculate the total amount of money you control based on lot size and leverage. This will give you a clear picture of what you are going to risk, and how great your profit will be.