[box]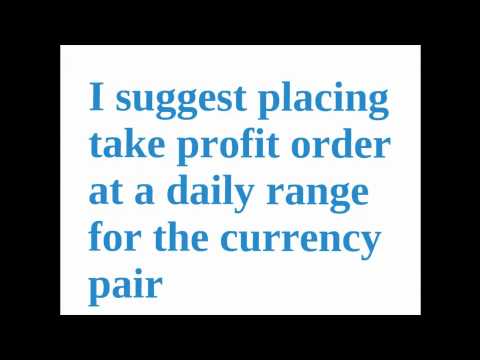 Calculating Take-Profits
[/box]
Take-profit order in FOREX lets you fix profit at the predicted price level, when market reaches it. Take-profits are very convenient, and in combination with stop-losses fully automate your trades. You just open a new position, set take-profit and stop-loss, and then you can safely leave your desk.
Many terminals such as Meta Trader also support trailing stops. It means if you set a trailing stop at your profit target, your position will not be closed when market reaches it. Instead, a moving stop order will be set at a specified distance from the current market price to allow more profit growth.
Average profit of your FOREX trading strategy can be increased by at least 30%, if you calculate profit targets based on the average daily range of the currency pair you are trading.
In theory, it looks good, but in the reality, both take-profit and trailing stop orders result in profit reduction, because they both have drawbacks. A fixed take-profit order limits your profit if market moves higher than you've predicted. A trailing stop also limits your profit, if volatility of a trend is very high.
What usually happens is… When activated, your trailing stop can be moved too close to the current price, and be executed when a small temporary pull-back occurs. Then, market edges higher and higher, and you loose a significant chunk of your predicted profit.
There is a better way of fixing your profits. You can use a fixed take-profit order, but instead of setting it to your predicted profit target, set it beyond the target towards a much greater profit based on the average daily range of the currency pair you are trading (if the later is greater than what you have predicted, of course). For EURUSD the average daily range is around 120 pips. It means you should set your take-profit order as far as at least +120 pips.
This approach has several advantages. First of all, if a significant trend starts the day you open your position, you have a good chance your large take profit order will be executed. If market does not reach your order, you can always close your position manually. If market keeps edging higher, you can set a trailing stop order beyond your large +120 pip take.
I've been using this approach for at least 5 years, and on average, I get 20 – 30% more money from every trade. If you want to learn how exactly you should calculate your take-profits, watch my video tutorial by clicking on the button below.
[button type=big link="http://go.tradingsignalsfx.com/how-to-calculate-take-profit-targets/" color=green]Watch Video [/button]