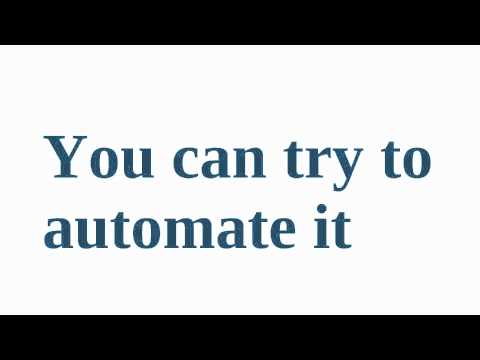 Automatic FOREX System
FOREX system is a set of rules trader uses in order to determine when to open a new position, what lot size to use, and when it's time to exit the market. When a trading system is well-defined, and uses a small number of rules, it becomes easy for a trader to follow it.
A trading system with well-defined rules is often called automatic FOREX system. Such a system allows a trader to trade on an auto-pilot without thinking too much at entry and exit points. A good automatic FOREX system can be easily formalized and turned into a FOREX robot designed for automated FOREX trading.
Expert advisers in MetaTrader can be used to completely automate trading. If you understand MetaQuote's MQL programming language, you can create one and use it on your live account.
There are 2 types of automation. A system can be fully automatic meaning it would monitor the market 24/7, make decisions to open or close positions, and actually do it without your intervention. A system can also be semi-automatic meaning it would monitor the market and send signals to a trader. Then trader analyses the market and chooses to open a position or to stay away. Once a position is open manually by trader, the system monitors it and closes it when necessary using well-defined rules.
To determine if your FOREX system is an automatic forex system, check if all the rules you use can be easily formalized. If yes, you can use it for automated FOREX trading. If not, you better use it in the manual mode as usual.
If you decide to create an expert adviser for MetaTrader, make sure you test it before using it with your live account. MetaTrader has a strategy tester you can utilize in order to back-test your expert adviser on historical FOREX data.