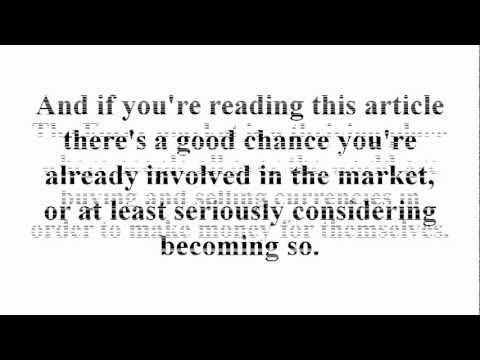 Probably the most popular type of forex trading strategies can be considered as a forex scalping strategies.
The Forex market is a thriving place where people all over the world are buying and selling currencies in order to make money for themselves. And if you're reading this article there's a good chance you're already involved in the market, or at least seriously considering becoming so. But there are other ways to make money trading on Forex besides just making money trading on Forex, if you catch my drift. You can also make money selling your successful trading strategy to other traders. And a great way to do that is to actually sell real-time trading signals through an account copier.
WHAT IS AN ACCOUNT COPIER?
A Forex account copier is used to copy the signals you send to your trading platform, sending them as well to another trader's or multiple traders' platforms, which process those signals and make the same trades for them as you just made yourself. This way, if you have a trading strategy that's making you money, you can sell those signals to other traders, either at a specific rate or for a percentage of the profit they make from using them, increasing your own profit by that much more.
HOW DOES IT WORK?
A Metatrader 4 or MT4 account copier works by designating one terminal as the "master" and one or more other terminals as "slaves." It then runs an expert advisor on the master terminal, logging and copying your trades, then sending a signal to a different expert advisor on the slave terminals, which processes those signals and makes the same trades for those accounts. This all happens over the internet in milliseconds, so that the slave terminals are making the same trades at almost the exact same time as the master terminal.
WHAT IS THE BENEFIT TO YOU?
The obvious benefit is the chance to make more money. As long as you have a successful trading strategy that consistently makes a profit over a long period of time, then there will be people willing to pay you for your trading signals. Since you can sell those signals for a percentage of the money that your clients are making with them, the risk to you is nil, and the risk to them is minimal since they're not paying out of pocket. True, they're risking their own deposits, but that's a manageable risk since you will have shown them proof that your signals are worth paying for.
HOW DO YOU PROVE YOUR SIGNALS WORK?
As soon as you set up your Forex account, be sure to register it with a reputable third-party monitoring site. This will be something you can show potential clients, demonstrating how effective your strategy is, how much profit it's made, and giving them a detailed history of all of your trades. As well, you can set your possible clients up with an investor password for your actual Forex trading account. This way they can log in to your account with your broker. They won't be able to change anything, but they will be able to look over all of your trading history and check out your charts and graphs to see how well your strategy works.
CAN IT COPY TRADES FROM A TRADING ROBOT?
This is another great advantage of an account copier. If you have an automated trading system that is consistently making money, you can use it in tandem with your account copier so that your robot's trades get copied to your investors' accounts. If done properly, you can have a fully automated business where you hardly even have to monitor your account, and make money both through your trading robot and through the signals you sell of its trades.
HOW DO YOU FIND AN ACCOUNT COPIER?
Forex forums are a good place to look. There are many of them all over the internet with thousands of traders discussing the best (and the worst) software packages available. With some careful research you can get a good idea of which account copiers are the best to try.
If you would like more information on Account copier or general information on Forex trading, visit my web site at http://www.tradingsignalsfx.com.