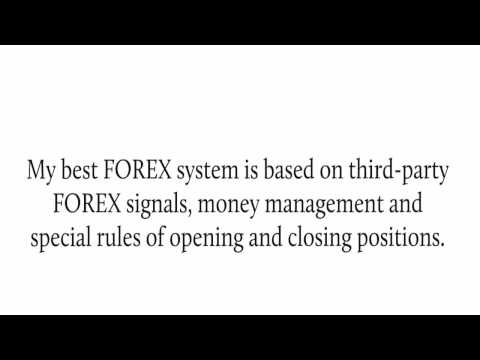 Best FOREX system is a trading system that is simple, has well-defined rules, and provides you with a profit/loss ratio of at least 2:1. Trading system must also fit into trader's lifestyle well. If you can trade during 2 morning hours a day only, you need a system that operates with delayed orders. If you can trade whole day long, you can have fun with a scalping system.
A very important part of the best FOREX system is money management. You have to manage your risks well in order to stay profitable for a very long time. Do not risk too much. Use not more than 5% of your deposit per trade no matter how often your positions close with profit. One day you may experience a large drawdown and you must have sufficient funds on your deposit to survive it.
My best FOREX system is based on third-party FOREX signals, money management and special rules of opening and closing positions. When I receive signals from one of my two signal providers, I check if profit/loss ratio is at least 2:1. This way I accept only safe signals and reject the risky ones. I also set take profit orders based on the average daily range of a currency pair I am trading no matter what projected target is. By the end of my day I close my positions manually if they do not close by take profit orders.
If you would like to learn more about my best FOREX system, feel free to subscribe to my list by entering your name and email address in the box below and clicking the orange button.